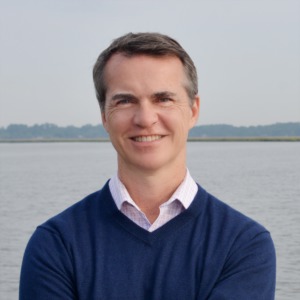 Canadian born (Quebec) and raised in Coastal New England, Alain has called many places home over the years including, Chicago, Nashville, Singapore and now Tybee Island Georgia. Tybee stood out as a real gem on the Southeast coast, with its picturesque beaches, historic cottages, and proximity to Savannah.
Alain and his husband bought a vacation home on Tybee Island while still living in Chicago. Having visited the Island once and on that same day buying the one and only house visited on their walk back from lunch, needless to say, they were smitten. Originally purchased as a part time vacation home to offset the frigid Chicago winters, they found themselves spending more and more time on Tybee, loving the location, mild winters and friendly people. They have called Tybee their full time home since 2014.
Their move South included both a cultural shift as well as a change in career for Alain. Shortly after moving to the area, they purchased Forsyth Park Inn. A 13-room bed and breakfast inn in the historic district of Savannah. Alain spent a number of years successfully overseeing the Inn as Innkeeper, managing operations, hosting hundreds of guests, overseeing wedding ceremonies and managing the Inn's gift shop FEST. Alain was also instrumental in overseeing the redesign and rebranding of the Inn leading to significant revenue growth.
Alain has spent most of his career leading customer experience teams for several companies throughout the U.S. and holds a B.S. Degree in Finance and M.S degree in Organization Management from Central Connecticut State University. Alain also attended architectural design school at Raffles Design Institute while living in Singapore.
Alain and his husband Mike live full time on Tybee Island in the historic Back River community. Alain is an avid gardener, maintaining both a home garden and a few plots at the Tybee Island Community Garden and loves to cook, entertain and travel.
Alain brings a unique perspective and approach to our team with his experience in hospitality, customer experience and design. As part of the Austin Hill Reality team, Alain will primarily focus on the sale, purchase and management of homes in the Tybee Island area as well as consulting with Innkeepers throughout Georgia looking to either purchase or sell a bed and breakfast property.