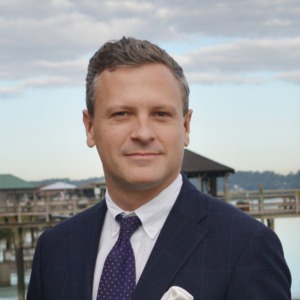 Austin began his real estate career over 19 years ago with Austin Hill Realty, the family company that focused on Savannah area real estate development. In 2004 his career led him to Nashville, where he was an Affiliate Broker with Rick French of Christie's Great Estates in Belle Meade. He spent seven years in Nashville learning and executing the best practices of the high-end real estate market with his colleagues and mentors. Austin is President of AHR & Associates in Savannah. In 2020 he launched Austin Hill Partners at Washington Fine Properties in Washington, DC, where he is an Associate Broker. 
Austin currently serves on the Board of Trustees for Historic Savannah Foundation, Leadership Savannah and Historic Trinity Methodist Church. Austin serves on the Advisory Committee of Fallingwater in Mill Run, Pennsylvania, a UNESCO World Heritage Site. He has served as Chairman of the Board of The Savannah Philharmonic, on the Board of Directors of The Savannah Board of Realtors, City of Savannah Tourism Advisory Committee, Nashville CARES, Belmont Mansion at Belmont University, and as a Commissioner of the Housing Authority of Savannah. Location Gallery was formed in 2015 with artist and curator, Peter Roberts. The gallery is housed at AHR & Associates and is one of Savannah's foremost galleries, contributing all proceeds to local non-profits. Since inception, Location Gallery has given in excess of $400,000 back to the Savannah community.
Austin is an alumnus of The Savannah Country Day School, Stetson University, and Leadership Savannah. He is a recipient of the 2015 Community Star Award by Savannah Technical College Foundation and the 2014 Generation Next Rising Business Star Award by Savannah Magazine. Austin achieved the rank of Eagle Scout in 1997. As a seventh generation Savannahian, Austin is an advocate for the preservation and responsible development of Coastal Georgia.